Host A Party and Earn FREE Stuff!
Why have a party?
There is no better way to spend time with your friends!  Who doesn't like to laugh, talk about relationships and sex, and shop for things that will spice up your sexual experiences?!  Better yet, when you host a party with Sweet Toy Delights, you earn 25% in FREE Product plus additional incentives and discounts!

Why party with me?
Take product home the same night of the party. Cash~N~Carry on hand.  Any orders requiring shipping usually arrive within 7 business days.  The company standard for delivery is two weeks but orders arrive faster than that.
What kind of party would you like to have?
I have experience with all girl parties, all guy parties, couples/coed parties, bachelorette parties, pole parties, etc etc.  Let me know what you are wanting to do and I will do my best to accommodate.
Learn more about Pole Parties.
How far will I go?
Get your mind out of the gutter for just a minute! We are talking about how far I will travel to do a party. Haha!  I am based in Columbus, OH, but frequently travel to Indiana, West Virginia, Kentucky, Michigan, and Pennsylvania to do a toy party!
What does it cost you?
Nothing!  But let me explain…I require a small refundable deposit to secure the party date.  Provided the party is not cancelled within 10 days of the requested party and the party meets special requirements, the deposit is refunded at the party. So, as long as you don't cancel…it costs you nothing!
You have nothing to lose and everything to gain.  As the hostess of a party, the more the guests at your party purchase, the more you get for free or at a great discount.  See the "Party Event Sales and Bonus Levels" table below…
---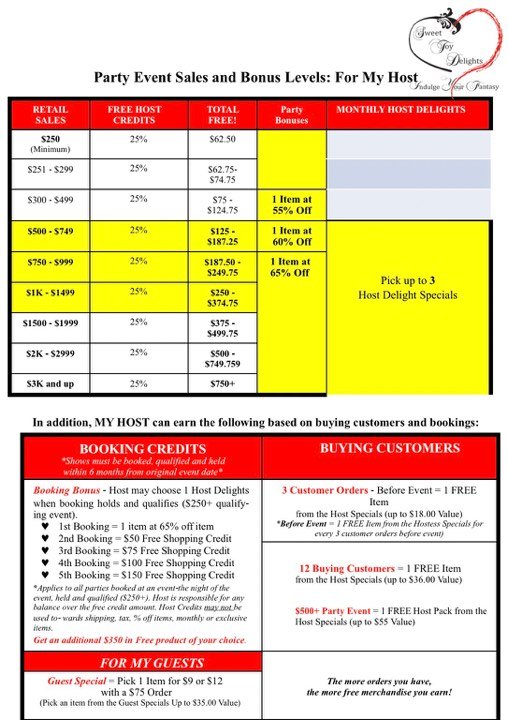 ---
Request More Information or Book A Party!